Cruise and visit of Grosse-Île with Parks Canada
Shrouded in mystery and inaccessible for decades, Grosse-Ile unveils its secrets!
Discover this unique place accompanied by Parks Canada guides.
OUR CRUISES
Discover Grosse Île, this former human quarantine station in the heart of the Isle-aux-Grues archipelago, which saw the passage of more than 4 million immigrants between 1832 and 1937.
Accompanied by Parks Canada guides, explore this place steeped in history, search for the name of your ancestors on the Irish Memorial, experience the medical inspection process that immigrants underwent upon arriving at Grosse Île and board the train ride to not miss anything about this historic place located less than 35 minutes from Quebec City!
SAFE CRUISES
Interactive Map Full Cruises Schedule Here!
Scheduling a Week-End in Chaudière-Appalaches
OUR CAPTAINS
For over 175 years, the Lachance family has been plying the waters of the St. Lawrence around the 21 magnificent islands of the Isle-aux-Grues Archipelago. The simple canoes used in the old days were, over time, joined by iceboats and fishing boats. Today, they are proud to have visitors discover the beauty of their beloved islands aboard splendid cruise boats.
"J'ai adoré ma nouvelle expérience Grosse-Île. J'ai pu constater ses améliorations continues et surtout la façon libre de la visiter. Bravo et à bientôt"

− Bruno Germain
"Je voulais vous dire merci pour le bon moment que nous avons passé avec vous! Bravo!"

− René et Martine
"Il y a longtemps que je n'avais pas passé une si belle journée, bateau beau et propre, équipage parfait et l'ornithologue très intéressant. "

− Louise Petronzio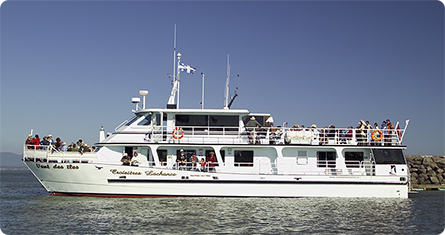 VENT DES ÎLES
A superb, two-deck craft, able to accommodate 170 passengers. The lower deck features a dining room and lounge. On the upper deck, you'll find the wheelhouse and solarium allowing passengers to admire the beauty of the scenery while remaining inside, sheltered from the sun. For those who prefer the feel of the breeze, an outside walk is perfect for sitting in the fresh air.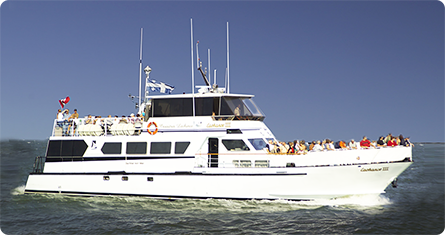 LACHANCE III
The Lachance III is a boat that will meet all your needs, providing both room and comfort. With sundeck and inside lounge, you'll feel like you're on your own private craft. Backed by a solid reputation, built over the years, the boat boasts all the amenities indispensable for complete enjoyment of your picturesque cruise of the Archipelago.